5 Benefits to Live Edge Flooring
5 Benefits to Live Edge Flooring
Custom appearance, unlike any other hardwood floor

Organic feel

Holds up well to wear and tear

Always a feature in any space

Can have a subtle or dramatic appearance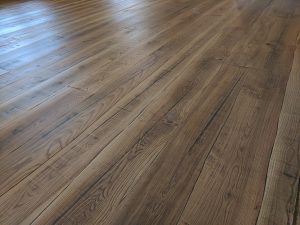 What Is Live Edge Flooring?
We've all heard of the term "Live Edge."  Generally, we think of different pieces of furniture.  Most commonly, tables can be made with a Live Edge. Essentially, the edges of the piece are not in a perfectly straight line and each and every piece is different.

At Revival Flooring, we've taken Live Edge to a whole new level.  We are now pleased to offer Live Edge Hardwood Flooring! Just as Live Edge tables are always bespoke,  our Live Edge Flooring is always unique and special; every time. Plank flooring always consists of straight boards.  In fact, when the boards are not quite straight, it creates occasional gaps and has an undesirable look. With our live edge flooring, the lack of having straight lines is the reason these floors look as organic and unique as they do!
With Live Edge Flooring, every board edge wanders and curves.  This can be done with a very slight curve to each board, or to a dramatic ark in the rows of the boards.  We have full control of this because we do all the design on-site. Rows in the flooring can therefore is relatively straight, staying true to the shape of the room.  Or they can bend greatly and not follow the shape of the room. it's hard to take your eyes off of the intriguing flooring.
As with all of our floors, we can control all aspects of our Live Edge Flooring, ranging from colour choice, sheen level, board width, board length, texture, species, grade etc.
Where would you install a Live Edge Hardwood Floor?  These floors look great in cottages and second homes, and also in contemporary spaces or feature rooms in office space and homes.
Contact Revival Flooring for more details about our Live Edge Hardwood flooring options!